Primary Years Programme
KG1 to 5

Ajman Academy is authorized to offer the Primary Years Programme (IB PYP) of the International Baccalaureate (IB) which provides a comprehensive curriculum framework for teaching and learning in the primary years (KG1 to Grade 5). The curriculum and pedagogy of PYP focus on international perspectives of learning and teaching while insisting that students fully explore their home culture and language.
IB MISSION STATEMENT
The aim of all IB programmes is to develop internationally minded people by encouraging students across the world to become active, compassionate and lifelong learners who understand that other people, with their differences, can also be right. (www.ibo.org)
IB-PRIMARY YEARS PROGRAMME
The IB-PYP curriculum is a curriculum, a philosophy and a methodology for young learners from KG 1 to Grade 5.
In this programme, the emphasis is placed on transdisciplinary and inquiry-based learning.
The core focus at Ajman Academy is learning and teaching in a caring, safe and welcoming environment where students are challenged to strive for personal excellence. The school believes in encouraging children to enquire.
They are encouraged to do research work and question themselves: How? Why? and When?
HOW IS THE PROGRAMME  TAUGHT?
The most significant and distinctive feature of the IB Primary Years Programme is the six transdisciplinary themes. These themes are about issues that have meaning for and are important to all of us. The programme offers a balance between learning about or through the subject areas and learning beyond them. The six themes of global significance create a transdisciplinary framework that allows students to "step up" beyond the confines of learning within subject areas.
Who we are
Where we are in place and time
How we express ourselves
How the world works
How we organize ourselves
Sharing the Planet
The programme puts great emphasis on learning about these transdisciplinary themes. Every theme is addressed each year by all students. The themes provide the opportunity to incorporate local, global and moral issues into the curriculum.
Scope & Sequence of our Curriculum
English and Language
Mathematics
Arabic
Art
Music
Physical Education including Swimming
Social Studies (including History and Geography)
Science
يرجى الضغط هنا لمزيد من المعلومات عن تعليم البكالوريا الدولية باللغة العربية.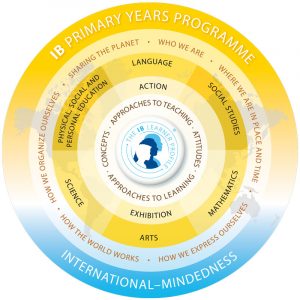 Ajman Academy
We are perfectly located off the E311
Sharjah - 15 mins
Mirdiff - 20 mins
Ras Al Khaimah - 35 mins
Silicon Oasis - 25 mins