Message from our Primary Principal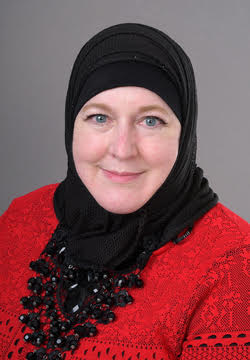 Greetings to our Parents, extended community and future families,
I would like to welcome you to Ajman Academy, a truly amazing school. Our staff and students already know the secret that Ajman Academy is dynamically unique. Initially, one feels welcomed by a bright and inviting interior with colourful learning spaces, natural light and superior facilities.
It is the fact that we are a community school that makes us most special. Every member of our school community is a thread in a beautiful, international, tapestry that enhances our multi-cultural, happy and safe environment. In the Primary School, it is such an environment that allows our children to do what is most natural to them; learn through inquiry.
As the principal of the Primary School (Pre-KG – Grade 5), I am excited about the new academic year. Our children are already immersed in hands-on learning through quality lessons and activities enhanced with iPad technology, purposeful educational field trips, celebratory assemblies, exhibitions and more.
Whether you are starting the year at Ajman Academy as a first-time student or parent, or as a long-time member of our community, we hope that you will join us as partners in the advocacy of children and excellence.
As the only IB World School in Ajman, and one of the few PYP (Primary Years Programme) schools in the UAE, we pride ourselves in offering an inquiry-based, student-centred curriculum that is directed to every child's emotional, social and academic level.
Our students are encouraged to ask thoughtful questions, work collaboratively and reflectively with others and to solve real-life problems through a carefully developed curriculum based on IB subject Scope and Sequences and aligned to the National Curriculum of the United Kingdom.
We take great pleasure in watching our children becoming more confident and tolerant listeners and communicators, sharers of ideas and opinions and strategic planners who take great pride in actively working toward a better world, for all.
Transitioning children to reach their highest potential is not a simple task. We are very fortunate to have an exceptionally talented and highly qualified group of teachers. Our teachers work together as a team to plan quality lessons that both challenge and motivate children.
Please feel free to share your observations about your child's learning with us at any time. We are always available to discuss ideas with our families. We expect nothing less! By working together with our families with mutual respect and understanding, we can continue to create the best atmosphere for every child.
Once again, I am honoured to share my commitment to Ajman Academy, and I invite each of you to share our vision of building excellence by joining with other parents as volunteers and on focus groups. Should this be of interest to you, please contact the Primary School office for further information.
Sandra Kellec
Primary Principal
Ajman Academy
We are perfectly located off the E311
Sharjah - 15 mins
Mirdiff - 20 mins
Ras Al Khaimah - 35 mins
Silicon Oasis - 25 mins