Education is a fundamental element for the development of a nation and the best investment in its youth.
- UAE VISION 2021
Inclusion
At Ajman Academy we are committed to providing personalised inclusive support to our Students of Determination, students with learning differences, students who have English as an Additional Language (EAL), Gifted and Talented students as well as those students that just need a little extra support as they go through their learning journey.
The identification of barriers to learning starts with the admissions process and we offer support and provision through informal assessments, external formal assessment provision, appropriate Individual Educational Plans, Learning Support Plans and personalized differentiation in classrooms; specific accommodations and modifications to ensure each student is able to experience success.
Our Inclusion Team consists of trained staff who are dedicated to the students' needs, progress and well-being. We aim for inclusion through a philosophy that values the individual and celebrates neurodiversity.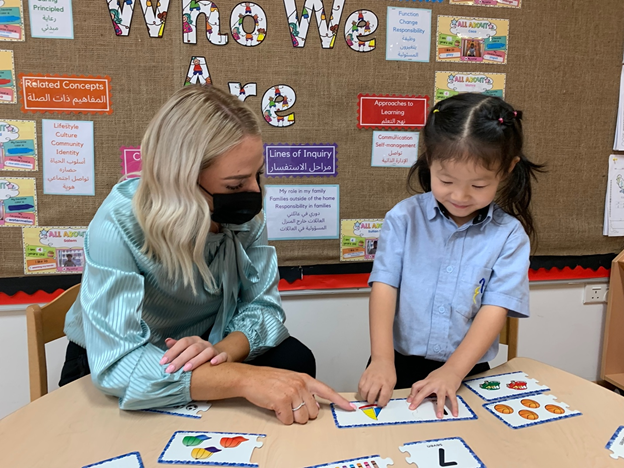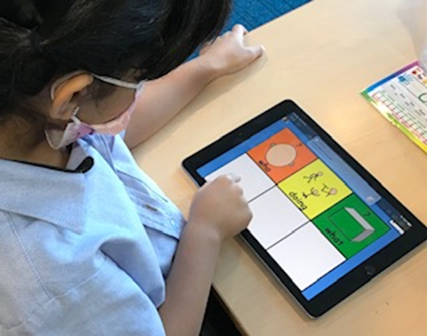 Inclusive Learning and Teaching Approach
An inclusive approach to learning and teaching starts with Quality First Teaching, where teachers make minor adjustments to help students in understanding and completing their classwork. This is the first wave of provision and, at Ajman Academy, we are fortunate in being an Apple Distinguished School with 1:1 iPad provision. The iPads provide a wealth of inclusivity features – also called accessibility features. Apple has added features to specifically help those with visual impairments, colour blindness, visual and auditory impairments and learning challenges including dyslexia.
All teachers have received Apple training on creating resources that use a 'universal design' where accommodations benefit all students. A multi-sensory teaching style that engages more than one sense at a time, helps to support those students learning in an additional language, and is routinely used in all grades. The seamless integration and the use of images, videos and texts within class resources ensure that the learning potential for all our students is maximised.
Dyslexia
Dyslexia is a specific learning difficulty that affects approximately between 5 and 10 percent of people. It is a common condition that makes it hard for students to read, write and spell. People with dyslexia can also have difficulties with self-organisation and sequencing skills, which can result in anxiety.
Fortunately, there are teaching approaches and strategies that can help people with dyslexia improve their reading skills and manage their challenges. At Ajman Academy, we are proud to have achieved the Dyslexia Friendly Schools Quality Mark accreditation from the British Dyslexia Association. This award demonstrates our commitment to supporting students who find Literacy challenging through a dyslexia friendly style of learning and teaching.
Please click on the following links to discover more about dyslexia and our journey in creating a dyslexia friendly environment.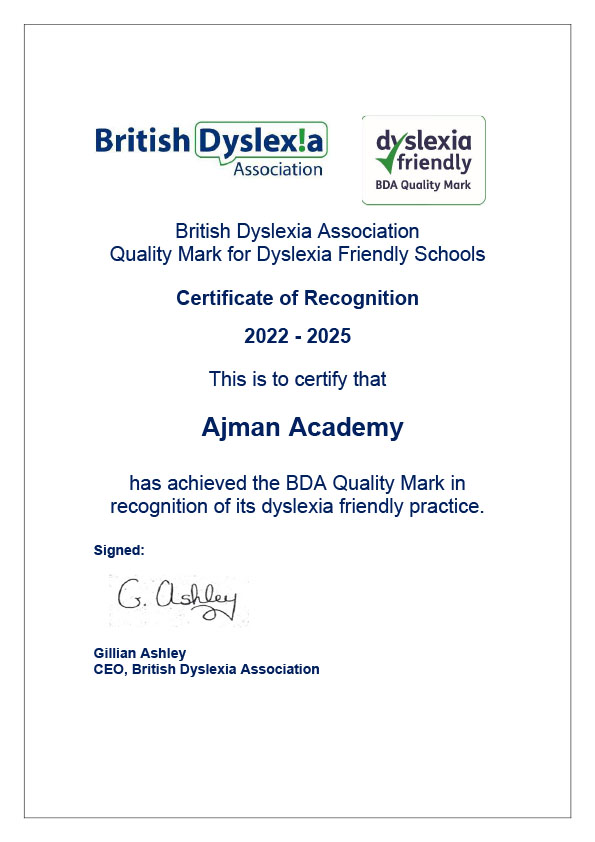 Technology Integration

Accessibility

Community

Agency