AJAC student wins an OxfordAQA Go Further Award for 'Top in the UAE' category for International AS Physics.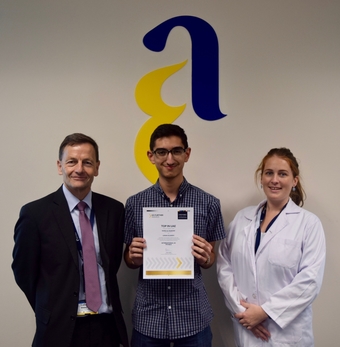 Ajman Academy celebrates exceptional UK curriculum exam results in OxfordAQA's first Go Further Awards.
One student from Ajman Academy has been confirmed as an award winner in the 2019 Go Further Awards.
The awards recognise students with the highest marks in OxfordAQA International GCSEs, AS and A-levels. They also recognise students with the best coursework projects and students who surpassed expectations by demonstrating resilience and effort.
The award-winning student is RAMZI AL-SHARAWI, who won the Top in UAE International AS Physics
Our Physics Teacher, Ms Sulene Rheeder, also received special recognition from OxfordAQA in a letter from the exam board's Managing Director Sadie Visick, who said:
"We're very proud to celebrate the achievements of our Go Further Award-winning students and recognise the hard work and dedication they put into their studies. We feel it's also important to recognise the contribution of their teachers and school staff, whose passion and commitment enabled these top-performing students to achieve their potential."
Mr Colin Bibby, the Secondary School Principal of Ajman Academy, said:
"All associated with Ajman Academy and the teaching team within our secondary Science Department are so very proud of Ramzi in being the top student in international AS Physics across the whole of the United Arab Emirates. The award is a clear affirmation that conscientious students can achieve their full potential at AJAC and reflects very positively on the quality of learning and teaching in the school. Ms Sulene deserves a special and hard-earned mention as the teacher who guided Ramzi through his Physics AS level studies".
Ramzi's Physics Teacher, Ms Sulene Rheeder said;
"I am extremely proud of Ramzi. His hard work, dedication and self-motivation has paid off. I feel privileged to have been part of this journey".
Ajman Academy has been teaching OxfordAQA qualifications since 2017. OxfordAQA – the abbreviated name for Oxford International AQA Examinations – is a partnership between Oxford University Press, a department of the University of Oxford, and AQA, the UK's largest provider of GCSEs and A-levels. The qualifications are specially designed to suit the needs of students studying in international schools, whilst being aligned to the standard of the reformed GCSEs and A-levels that students now take in England.
The reformed UK GCSEs, in particular are now more demanding, with a new Grade 9 to differentiate students at the very top of the ability range. OxfordAQA's International GCSEs are benchmarked to this new 'gold standard', which means that the achievement of Ramzi Al-Sharawi is all the more remarkable.Founded in 2012 Ajman Academy offers a wide range of IGCSE and AS/A level subjects. In Grades 11 and 12, we offer globally recognised, 'gold standard' British Curriculum A levels across a range of subjects, including English, Maths, Sciences, Computing, Business and the Arts.
Personalised and specialist student counselling is available to all students to ensure that students and parents can make the most informed choices of subject.
Ajman Academy
We are perfectly located off the E311
Sharjah - 15 mins
Mirdiff - 20 mins
Ras Al Khaimah - 35 mins
Silicon Oasis - 25 mins