Outstanding IGCSE & AS/A-Level results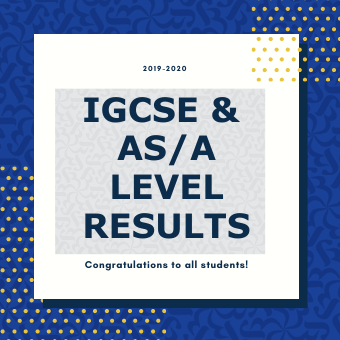 We are delighted to announce that our students have surpassed all expectations by achieving the best ever IGCSE grades and a 100% pass rate for A-Level and 97% AS-Levels.
Despite being faced with the toughest academic year with distance learning in place from March, they proved to themselves that with hard work, dedication and perseverance, that goals can still be reached.
Congratulations to all students!
IGCSE Top Grades
80% of students graded A* – C
79% scored A* – C Maths
77% scored A* – B English
90% scored A* – C in ICT
85% scored A* – C in Biology
81% scored A* – C in Physics
77% scored A* – C in Chemistry
AS/A- Levels
AJAC students achieved a 48% improvement on last years AS/A-Level results with 74% of students receiving an A-C grade.
80% scored A-C in English
87% scored A-C in Maths
100% of students received A-B grade in Economics
100% of students received A-B grade in Business Studies
100% 0f students received A-C grade in Physics
100% of students received A-B grade in ICT
Ajman Academy
We are perfectly located off the E311
Sharjah - 15 mins
Mirdiff - 20 mins
Ras Al Khaimah - 35 mins
Silicon Oasis - 25 mins