We are a CIS Accredited School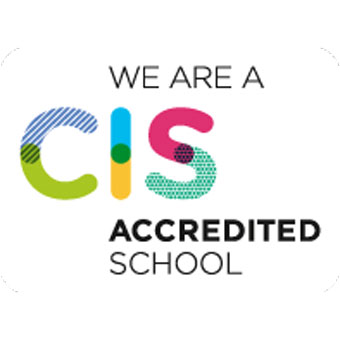 Ajman Academy is pleased to announce that it has received full accreditation from the Council of International Schools (CIS); an international membership and community that is committed to high-quality international education. CIS is a global organisation with more than 1300 educational institution members promoting a desire to provide students with the knowledge and skills to pursue their lives as global citizens.
As the only school in Ajman with CIS membership, this accreditation reinforces our commitment to undertaking an ongoing external quality assurance process that enhances the student learning at Ajman Academy from our youngest Pre-KG students to our A-Level graduates. Our journey towards the CIS accreditation began in 2017. It included a period of self-study and assessment, followed by a CIS evaluation visit from a team of educational professionals in November 2019. The whole AJAC community, including staff, students, parents and the Board of Directors were involved in the process, which examined every aspect of Ajman Academy. The review delved into our mission statement, values and principles as well as our curriculum and commitment to student development and enrichment.
Mr Fiyaz Ahmed, the Director, said, "We are delighted to have achieved CIS accreditation. The CIS organisation is a worldwide leader in the field of school evaluation and accreditation. The evaluating team looked at all aspects of the school; including curriculum, learning and teaching, student well-being, facilities, community relationships and leadership.  The quality and rigour of the CIS international accreditation process and the feedback provided has validated the excellent progress made at Ajman Academy over the past 18 months. The report highlighted many commendations and some recommendations that will, in turn, be incorporated into the school's strategic plan over the next few years.
I would like thank the students, staff, parents and Board of Directors for their support in realising this major milestone in the school's development."
The CIS evaluating team were particularly impressed with the efforts of the Leadership Team in developing a clear strategic plan that incorporates CIS accreditation standards and has explicit links to the school's guiding statements. They also commented on the strong relationships between all members of the school community based on trust and transparency.  This was coupled with the team identifying excellent channels of communication between the school and home.
CIS also highlighted the creative and innovative use of technology across all areas of the curriculum. In particular  Ajman Academy's Artificial intelligence programme, which has been embedded into the curriculum in Grades 6-8. 
In total, there were over 36 commendations across all domain areas evaluated and we will be sharing these with our school community, along with the recommendations, later this month. 
Ajman Academy
We are perfectly located off the E311
Sharjah - 15 mins
Mirdiff - 20 mins
Ras Al Khaimah - 35 mins
Silicon Oasis - 25 mins