We are UAE's 10 most admirable IB World Schools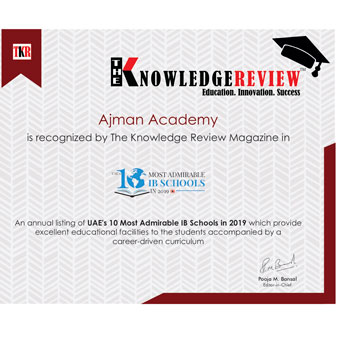 Ajman Academy has been recognised by the Knowledge Review Magazine as one of the UAE's 10 most admirable IB schools in 2019.
Click here to read the full interview from our Director, Mr. Fiyaz.
Focused on Development of the Students
The school offers language programmes in English and Arabic with the objective of celebrating and improving mother tongue as well as emphasising on developing English skills. Flexible learning spaces in the school include well-resourced libraries; music rooms, art rooms, and design technology rooms; science, food, and IT labs so providing a rich and diverse educational experience. A 25-metre indoor swimming pool and football pitches also provide a superb sporting opportunity and all students are encouraged to participate in the Physical Education Programme. This holistic approach to student well-being and learning is fully in keeping with the IB World School philosophy.
The Student Leadership Programme at the school aims to develop leadership skills among the students through a variety of inspiring, challenging, and valued leadership roles. These impact positively on learning, teaching and well-being for both students and staff at Ajman Academy. This programme also includes the Duke of Edinburgh Award Scheme and Model United Nations.
Scholarship Programme
Ajman Academy offers a scholarship programme for students applying from Grade 4 to Grade 12 for the academic year 2019-20. The school aims to develop young talent while paving the way for an innovative future to empower students through learning. Scholarships are offered to students who exhibit outstanding potential within their academic study.
Strategic Direction
Throughout its efforts of achieving academic and career excellence, Ajman Academy has made many remarkable achievements. It is a BSO, BSME, and IB PYP accredited school, working towards attaining curricular and extra-curricular excellence. The school is focused on achieving a number of international accreditation, such as The Council of International Schools (CIS), the IB MYP  (Candidate School), and Apple Distinguished School (ADS) status.
The Future
The school offers a wide-ranging curriculum, which opens the doors to various post-school opportunities, including academic higher education, vocational higher education, and employment. It prepares students to take on various challenges of life or pursue higher education – locally, regionally, and internationally. Others contribute to the local community through a variety of employment directions. Ajman Academy endows students with a wide variable set of skills which would help them to thrive in the ever-evolving employment sector.
Ajman Academy
We are perfectly located off the E311
Sharjah - 15 mins
Mirdiff - 20 mins
Ras Al Khaimah - 35 mins
Silicon Oasis - 25 mins