Why should you choose a CIS accredited international school?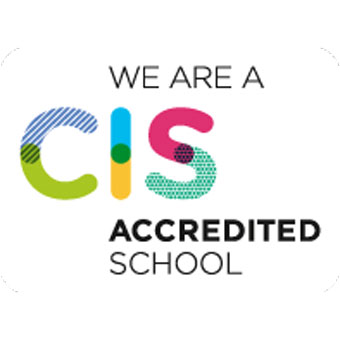 Ajman Academy received full accreditation from the Council of International Schools (CIS); an international membership and community in January 2020.  CIS is a global organisation with more than 1300 educational institution members promoting a desire to provide students with the knowledge and skills to pursue their lives as global citizens.
Why does accreditation matter?
As the only school in Ajman with CIS membership, this accreditation reinforces our commitment to undertaking an ongoing external quality assurance process that enhances the student learning at Ajman Academy from our youngest Pre-KG students to our A-Level graduates. Our journey towards the CIS accreditation began in 2017. It included a period of self-study and assessment, followed by a CIS evaluation visit from a team of educational professionals in November 2019. The whole AJAC community, including staff, students, parents and the Board of Directors were involved in the process, which examined every aspect of Ajman Academy. The review delved into our mission statement, values and principles as well as our curriculum and commitment to student development and enrichment.
Who is CIS?
CIS is the Council of International Schools which currently involves 735 schools representing 116 countries.
As a leader in the field of school evaluation and accreditation worldwide, CIS provides a unique international school accreditation process with a focus on student learning and global citizenship. The quality and rigour of a CIS International Accreditation is recognized by ministries, departments of education, and universities around the world as a demonstration of a school's commitment to high-quality international education.
What do they do?
CIS helps schools gain recognition for accomplishments, attract qualified staff, facilitate student connections with leading universities around the world, and provide a quality international education experience to students and parents.
What are the benefits of choosing a CIS accredited school for your child?
A school that holds a CIS accreditation shows that it has achieved high standards of performance in international education and has a commitment to continuous improvement. The award shows that the school:
· is devoted to its mission and vision for students
· has thought deeply about the services it offers to students, family and community.
· invests the time and resources for validation from a globally recognized accreditation authority
· focuses on the quality of teaching, student learning, as well as student safeguarding and well-being
· is committed to the development of the students' global citizenship
· has a suitable philosophy of education for its students
· promises only what it can deliver
· is open to regular evaluation by its own school community and peer evaluators
· constantly seeks improvement in all areas of the school plans strategically for the future.
Higher education institutions recognize immediately that a CIS Accredited School meets globally recognized standards and promotes values and skills that they are seeking in students.
Over 600 of the top universities in the world are part of the CIS membership community. They value the mark of the CIS accreditation, targeting students who graduate from CIS accredited schools for admission to their institutions. This verifies CIS International Accreditation as a mark of high quality, and therefore, endorses the quality of international education provided to student graduates of these schools. For more information https://www.cois.org/
Ajman Academy
We are perfectly located off the E311
Sharjah - 15 mins
Mirdiff - 20 mins
Ras Al Khaimah - 35 mins
Silicon Oasis - 25 mins